Google introduced a new feature for its search results in February this year. Known as 'About this result', the feature offers users context/additional information about the websites that appear in the search results. The feature was initially available in the US. But, as spotted by Only Tech, it is now rolling out to users in India.
What is Google's About this result feature?
The feature helps Google search users learn more about the websites/results that appear on Google Search page. It offers additional information about the result so that users can get more context or peace of mind, especially if they are looking for something important, like health or financial information. Google says that the feature helps one 'find helpful info without having to do another search'.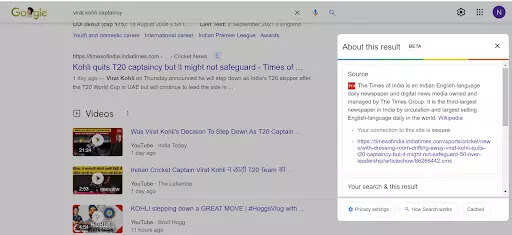 How to use Google's About this result feature?
Google Search's About this result feature is available for desktop, mobile web and Google app on Android devices. The feature can be accessed by clicking on three dot icons on the top-right corner of the result card.
What information will be shared?
Once a user taps on three dot icon of the result card, Google will show a description of the website from Wikipedia, in most cases. In case a website doesn't have a Wikipedia description, Google will show an additional context that may be available, such as when Google first indexed the site.
In addition to the information about the website, users will also be able to see if their connection to the site is secure based on its use of the HTTPS protocol to help you stay safe as you browse the web. It will also show searchers information about some of these most important factors used by Google Search to connect results to their queries. This will further help people decide what result is useful for them.