While there are a lot of features on the iPhone that makes life easier and can be executed in a jiffy. Deleting multiple contacts in one go, however, was conspicuously absent. And it was a rather pain point for a lot of iPhone users. It was one of those things that seemed rather strange. If one had to delete multiple contacts on iPhone in one go then the user had to log in to iCloud and then delete. It sounds strange that the feature wasn't there but it's true. However, with iOS 16, Apple has finally made it easier for iPhone users to delete multiple contacts in one go. Here are the steps one needs to follow to delete multiple contacts on iPhone:
Open the Contacts app on the iPhone
Choose the contacts that you want to delete.
Now, use two fingers to select one contact. Then drag up or down to select more contacts that need to be deleted
If the contacts are highlighted grey, then it means they have been selected
Long press on the selected contacts and pop-menu will appear where you can see the option of Delete the contacts
Tap delete and the contacts will be deleted.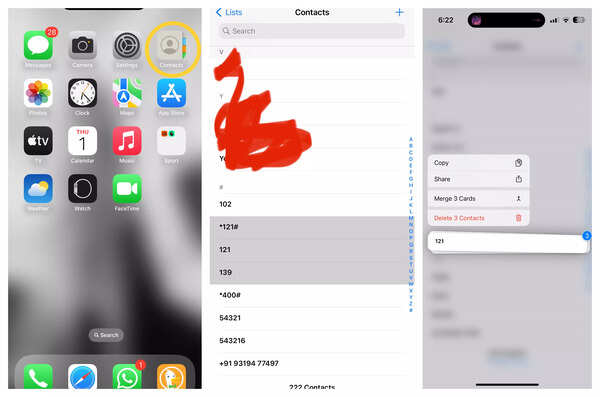 Having used and tried the feature, it has to be said that implementation isn't as smooth as it should have been. We did find it difficult to drag up and down as often multiple contacts that we didn't want to delete were also selected. A better implementation perhaps would've been the select option which Apple gives in, say the Photos app. Nevertheless, as they say, something is better than nothing.
https://timesofindia.indiatimes.com/gadgets-news/how-to-delete-multiple-contacts-on-the-iphone/articleshow/95916159.cms