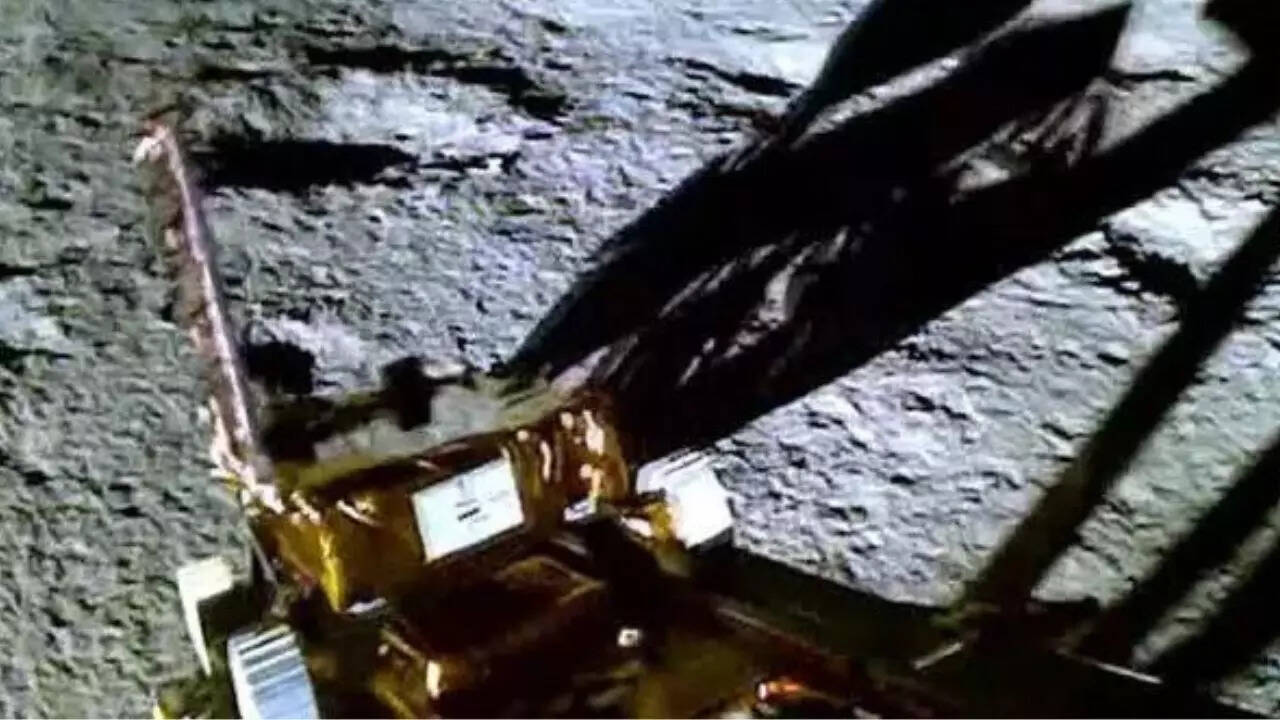 NEW DELHI: Government of India on Saturday declared August 23 as 'National Space Day' to commemorate the success of the Chandrayaan-3 mission with the landing of the Vikram lander and deployment of the Pragyaan Rover on the lunar surface.
India took a giant leap as ISRO's Chandrayaan-3 successfully landed on the south pole of the moon on August 23, making it the first country to have achieved the historic feat and bringing to an end the disappointment over the crash landing of the Chandrayaan-2 four years ago.
"With the success of the Chandrayaan-3 Mission on 23rd August 2023 with the landing of the Vilcram lander and deployment of the Pragyaan Rover on the lunar surface, India joins an elite group of Space faring nations becoming the fourth country to land on the moon and the first nation to and near to South pole of the moon. The outcome of this historic mission will benefit mankind in the years to come. This day marks an important milestone in the Country's advancements in Space Missions, inspire younger generations towards enhanced interest in pursuing STEM and provides a major impetus to the Space sector," the official notification read.
"Now, therefore, the Government of India has declared the 23rd Day of August of every year as the "NATIONAL SPACE DAY" to commemorate this historic moment," it further added.
The Pragyan rover, which was aboard the Vikram lander, embarked on its mission to explore the lunar south pole and conduct a series of experiments after it exited the craft on August 23. Isro chief S Somanath expressed readiness for the new challenges that lay ahead.
The successful, gentle touchdown of the Vikram lander, following the setback in 2019, ignited a wave of joy and celebration throughout the nation.
ISRO advances Gaganyaan crew module development for abort test
Watch Chandrayaan-3: As moon goes dark again, Vikram Lander, Pragyan Rover sleep forever
}
window.TimesApps = window.TimesApps || {}; var TimesApps = window.TimesApps; TimesApps.toiPlusEvents = function(config) { var isConfigAvailable = "toiplus_site_settings" in f && "isFBCampaignActive" in f.toiplus_site_settings && "isGoogleCampaignActive" in f.toiplus_site_settings; var isPrimeUser = window.isPrime; if (isConfigAvailable && !isPrimeUser) { loadGtagEvents(f.toiplus_site_settings.isGoogleCampaignActive); loadFBEvents(f.toiplus_site_settings.isFBCampaignActive); loadSurvicateJs(f.toiplus_site_settings.isSurvicateActive); } else { var JarvisUrl="https://jarvis.indiatimes.com/v1/feeds/toi_plus/site_settings/643526e21443833f0c454615?db_env=published"; window.getFromClient(JarvisUrl, function(config){ if (config) { loadGtagEvents(config?.isGoogleCampaignActive); loadFBEvents(config?.isFBCampaignActive); loadSurvicateJs(config?.isSurvicateActive); } }) } }; })( window, document, 'script', );


https://timesofindia.indiatimes.com/home/science/govt-declares-august-23-as-national-space-day/articleshow/104424354.cms