BENGALURU: In a key milestone, the indigenously developed Tapas-201 MALE (medium-altitude long-Endurance) unmanned aerial vehicle (UAV) is now ready for user evaluation trials, the Defence Research and Development Organisation (DRDO) said on Wednesday.
The UAV has been designed and developed by Bengaluru-based Aeronautical Development Establishment (ADE).
Stating that Tapas was demonstrated to the tri services team for the first time at Aeronautical Test Range in Chitradurga, some 200 km from Bengaluru, on June 27, DRDO said on Wednesday: "The 200th flight of Tapas UAV was demonstrated to the tri services team for the first time at ATR chitradurga. The team appreciated indigenous efforts for development of the UAV. Tapas is now ready for user evaluation trials."
Tapas-201 is a multi-mission UAV that can perform intelligence, surveillance and reconnaissance roles for the three armed forces. It has an endurance of 24-30 hours.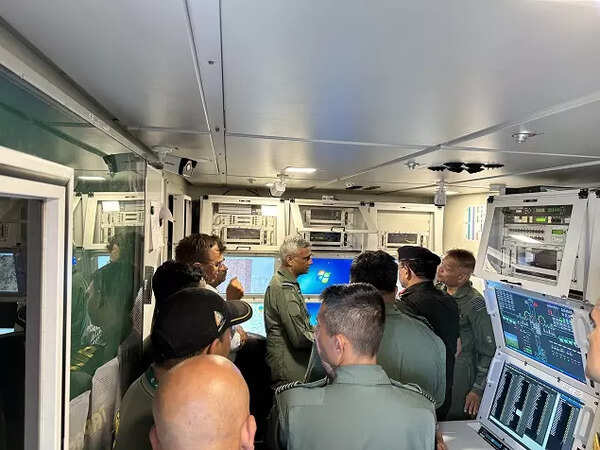 As reported by TOI earlier, the DRDO and the Indian Navy, on June 16, had successfully demonstrated transferring of command and control capabilities of the UAV from a distant ground station to onboard INS Subhadra — 148 km from Karwar Naval Base.
According to DRDO, Tapas has an operating altitude of 30,000 ft, endurance of more than 24 hours with earth observation and SAR (synthetic aperture radar) payloads and a range of more than 250 km.
It is enabled to carry a variety of payloads up to a maximum of 350 kgs and its mission requirements are to provide continuous wide area coverage and yet be able to identify small targets. "It is comparable in the same class as Israeli HERON UAV," DRDO had said earlier.
Tapas can carry different combinations of payloads like medium-range electro optic, long-range electro optic, SAR, electronic intelligence, communication intelligence and situational awareness payloads and operate both during day and night.
This vehicle was earlier called the Rustom and DRDO is hopeful of customers outside of the tri services to make use of the UAV. State police forces, paramilitary forces and the Coast Guard are pegged as prospective customers.
window.TimesApps = window.TimesApps || {}; var TimesApps = window.TimesApps; TimesApps.toiPlusEvents = function(config) { var isConfigAvailable = "toiplus_site_settings" in f && "isFBCampaignActive" in f.toiplus_site_settings && "isGoogleCampaignActive" in f.toiplus_site_settings; var isPrimeUser = window.isPrime; if (isConfigAvailable && !isPrimeUser) { loadGtagEvents(f.toiplus_site_settings.isGoogleCampaignActive); loadFBEvents(f.toiplus_site_settings.isFBCampaignActive); } else { var JarvisUrl="https://jarvis.indiatimes.com/v1/feeds/toi_plus/site_settings/643526e21443833f0c454615?db_env=published"; window.getFromClient(JarvisUrl, function(config){ if (config) { loadGtagEvents(config?.isGoogleCampaignActive); loadFBEvents(config?.isFBCampaignActive); } }) } }; })( window, document, 'script', );


https://timesofindia.indiatimes.com/home/science/drdo-tapas-uav-ready-for-user-evaluation-trials/articleshow/101333266.cms