After phones with 108MP cameras, embrace yourself to see smartphone brands offering 200MP cameras soon. Samsung has announced its ISOCELL HP1 camera sensor that offers 200MP resolution based on 0.64 µm-pixels and a new pixel-binning technology called ChameleonCell. With Samsung announcing the new 200MP camera sensor, it is just about time that chip makers like MediaTek and Qualcomm introduce new mobile chipsets that support 200MP and more resolution cameras. For the record, there are some Qualcomm chips that already support 200MP image sensors.
What is the 200MP
ISOCELL HP1 sensor
and what you may get
The ISOCELL HP1 is claimed to be the first mobile image sensor to support 200MP photos. It is based on Samsung's most advanced 0.64μm-sized pixels. With a 200MP camera, you can expect photographs to be more detailed and images will stay sharp even when cropped or resized.
While the new image sensor appears quite promising on paper, a lot depends on the processing capabilities of the chipset. It goes without saying that clicking and saving a 200MP photo will take slightly more time. Also, the file size is expected to be almost double of 108MP resolution photos. For example, an 108MP resolution photo occupies around 15MB space. For 200MP photos, the file size is expected to be upwards of 25MP.
Another thing to note is that brands will offer a separate 200MP mode to click photos in high resolution. And we can also expect higher optical zoom.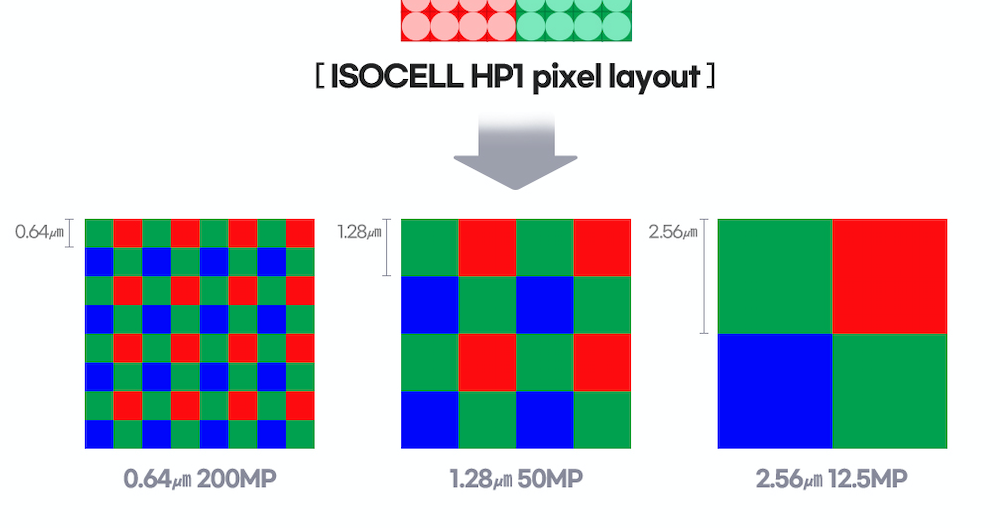 What's the new ChameleonCell
The ISOCELL HP1 image sensor is powered by a new pixel-binning technology called ChameleonCell. It has three pixel layouts: two-by-two, four-by-four or full pixel layout depending on the surrounding light. If you are clicking photos in 200MP resolution, then the individual pixel size is reduced to 0.64μm. This may be ideal for clicking photos in bright conditions. In a low-lit environment, the HP1 transforms into a 12.5MP image sensor with large 2.56μm pixels by merging 16 neighboring pixels. The sensor can also click photos in 50MP at a pixel size of 1.28μm
The biggest USP is the new 2.56μm pixel that is capable of more light absorption and sensitivity, producing brighter and clearer photos in lowlight. The ISOCELL HP1 can take 8K videos at 30 frames-per-second (fps) with minimum loss in the field of view. The HP1 merges four neighboring pixels to bring the resolution down to 50MP or 8,192 x 6,144 to take 8K (7,680 x 4,320) videos without the need to crop or scale down the full image resolution.