In a move that would make for a revolutionary design statement, Apple has got the patent for an all-glass device approved by the USPTO (United States Patent and Trademark Office). The all-glass device, which could very well be an iPhone, has been termed as an "Electronic device with glass enclosure" by the company and since its entire body is made of transparent glass, all six flat surfaces on the body can be used as displays. The patent was filed on August 15, 2019.
This isn't the first time the tech giant has used a glass concept for a device and has been doing it for the past eight years, as per Patently Apple. An all-glass iPhone is the next, with a display that may also wrap around the sides, thus expanding the screen area for a seamless look. Apple has also made it clear how it plans to assemble and disassemble the phone. It could be facilitated by a"cap" at the top or bottom of the device through which the components can slide out.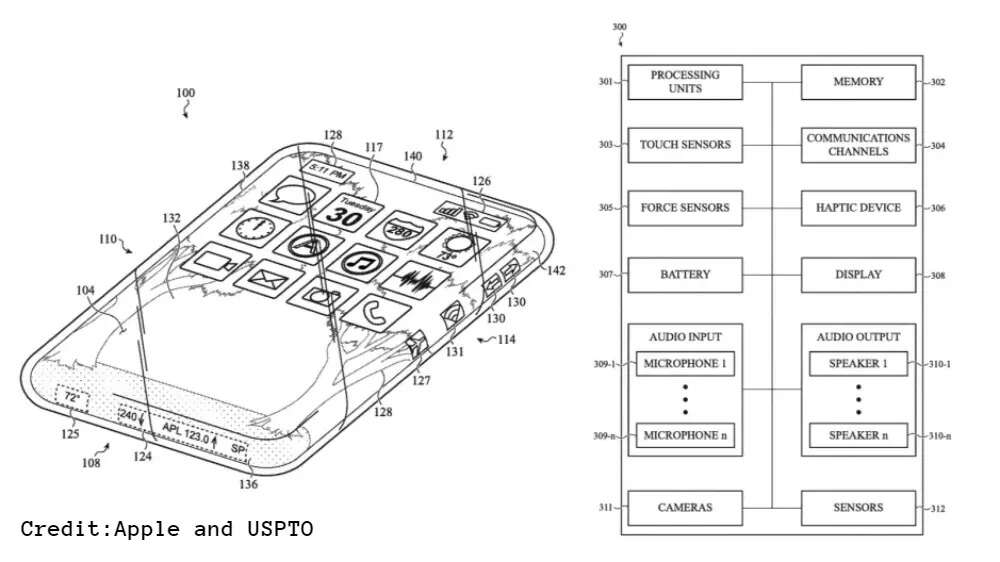 "An electronic device includes a six-sided glass enclosure defining an interior volume and comprising a first glass member and a second glass member. The first glass member defines at least a portion of a first major side of the six-sided glass enclosure, at least a portion of a peripheral side of the six-sided glass enclosure, a first region along the peripheral side and having a first thickness, and a second region along the peripheral side and having a second thickness different from the first thickness. The second glass member is attached to the first glass member and defines at least a portion of a second major side of the six-sided glass enclosure.", says the abstract of the patent.
But would the device be commercially and practically viable? It has got glass all around and just glass. When even a scratch on the screen means a nightmare for an iPhone user, imagine dropping an all-glass phone somewhere as it is a given that a glass body will be slippery even with the assurance of a Corning Gorilla Glass Victus protection. The device may survive but it may not remain scratchless. The sheer terror of paying that much extra when you have already paid so much. Also, having only glass in the body means a heavier iPhone. People don't want their iPhones (or for that matter, any smartphone) feeling like a slab of brick. We honestly have serious doubts about the device going to make it to the markets unless Apple is planning to spring some surprise about it which it alone knows.